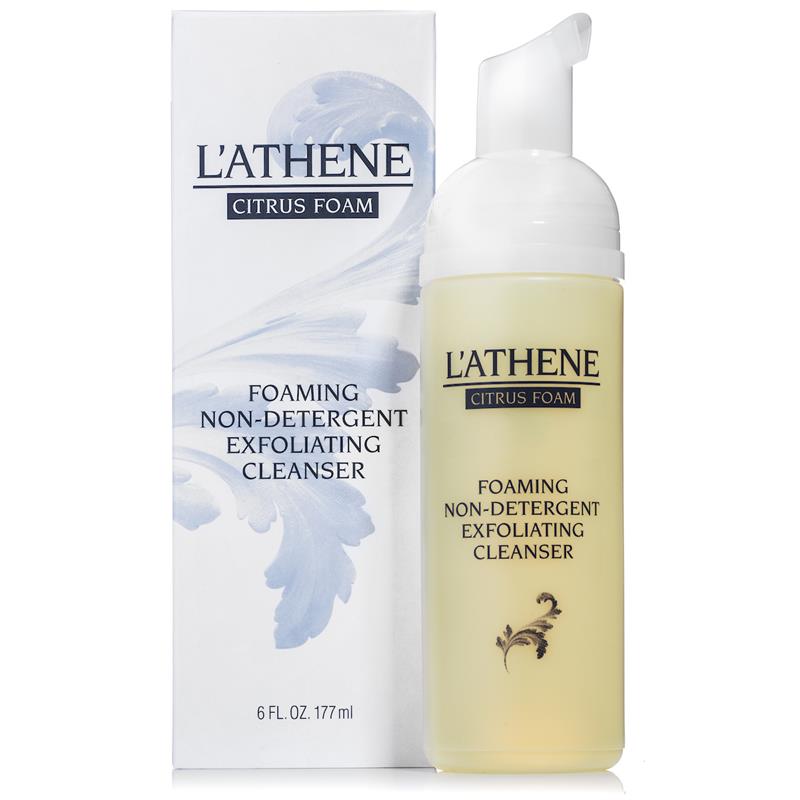 CITRUS FOAM Exfoliating Cleanser
POWERFUL FOAMING CLEANSER
Non-detergent, exfoliating cleanser
Removes excess sebum and dead cells without stripping skin
Visibly smoothes skin
Improves skin tone and refines with natural citrus astringents
Removes makeup too
Great as prep for mask or exfoliation scrub
For oily and combination skin
~4-6 month supply. 6 oz.
DETAILS
LIGHTWEIGHT FOAMING EXFOLIATING WASH efficiently sweeps away surface impurities and dead cells without irritation or overdrying. Foaming Cleansers are traditionally made from detergents that can strip the skin of its natural moisture barrier resulting in dehydrated and irritated skin.
This non-detergent cleanser is made with the perfect balance of botanicals to deeply cleanse the skin and carefully remove the excess sebum and cells without stripping the skin.
Oat Protein and Pacific Algae soothe and help repair cells. Smoothes, clarifies, brightens and rebalances skin.
INGREDIENTS
CITRUS FOAM Exfoliating Cleanser
Steam Distilled Water, Organic Tea Blend of Lavender (Lavandula Angustifolia), Fennel (Foeniculum Vulgare), Lemon Balm (Melissa Officinalis); Decyl Glucoside*, Glycerine*, Soyamidopropyl Betaine*, Green Tea Extract, Apple Extract, Sugar Cane Extract, Caprylic Acid, Soya Oil, Glycine, Tocopherol (Natural Vitamin E), Pacific Algae, Oat Protein, Selenium, Orange Oil, Grapefruit Oil, Lemon Oil, Bergamot Oil.
* vegetable source

USAGE/TIPS

Dampen face. Pump out a small amount of foam and massage for 10 seconds over face and neck. Rinse with lots of warm water. Pat dry.
FOR COMBINATION / NORMAL SKIN
Cleanse:

a. PRIMESSE Anti-Aging Facial Cleanser - AM and PM
b. CITRUS Foam Exfoliating Cleanser - use 2-3 times/wk instead of PRIMESSE for exfoliation or as a prep for mask
Repair: VITAPURE Antioxidant Serum - AM and PM
Hydrate: RESTORE Balancing Moisturizer - use on dry areas
Deep Pore Treatment: CLARIFIQUE Purifying Clay Mask, 3-5 times/wk
FOR OILY SKIN
Cleanse: CITRUS FOAM Exfoliating Cleanser
Repair: VITAPURE Antioxidant Serum - AM and PM
Deep Pore Treatment: CLARIFIQUE Purifying Clay Mask, 3-5 times/wk
FOR TEENS
Cleanse: CITRUS FOAM Exfoliating Cleanser
Deep Pore Treatment: CLARIFIQUE Purifying Clay Mask, 3-5 times/wk
FOR DRY SKIN
Cleanse:

a. PRIMESSE Anti-Aging Facial Cleanser - AM and PM (very dry - PM only)
b. CITRUS Foam Exfoliating Cleanser - use once a week as a prep for exfoliation
Repair: VITAPURE Antioxidant Serum - AM and PM
Hydrate: ULTRA Intensive Moisture Therapy
REVIEWS
"I have struggled to find a cleanser that worked on my skin that was not drying and still got off the oil and dirt. This CITRUS FOAM is great and my skin feels clean and balanced." Shari S. Hammond, IN
"I love the CITRUS FOAM. I used to use the detergent cleansers and never realized what they were doing to my skin. Now, I have my foam and great, soft skin too." Cindy R. Quebec
"I love the CITRUS FOAM cleanser. It thoroughly cleans my skin but doesn't strip it. I also love the smell. I look forward to cleaning my face." Gloria L. Cary, NC