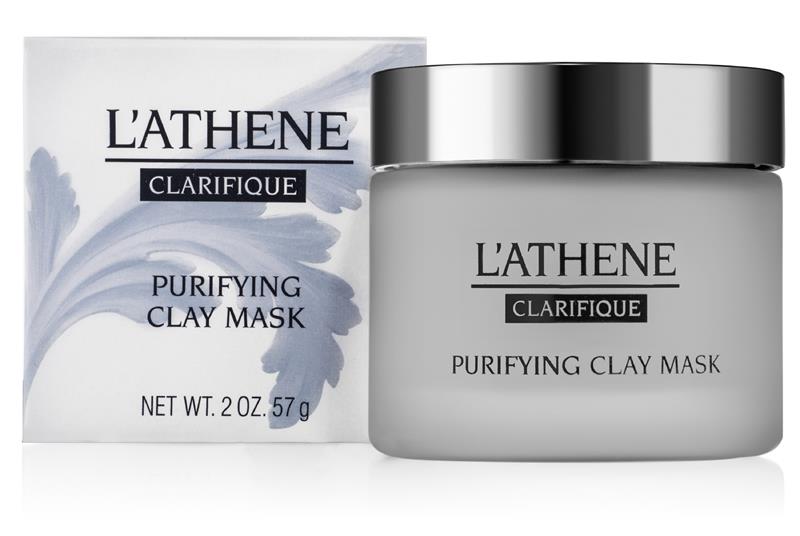 CLARIFIQUE Purifying Clay Mask
CLARIFIQUE Purifying Clay Mask
ULTIMATE SKIN DETOXIFIER
Draws out deep impurities and dead cells
Refines skin texture and appearance
Minimizes the appearance of pore size and absorbs oil
Reduces blackheads and whiteheads
Soothes redness and irritation
Helps to inhibit bacteria growth
For all skin types
~4-5 month supply. 2 oz.

DETAILS
REMOVES DIRT AND OIL FROM DEEP IN THE PORES. Natural soft mineral clays of Kaolin and Bentonite purify, detoxify and lift impurities from deep within the pores. High concentrations of minerals make these pure clays highly absorbent resulting in effective removal of deeply embedded dirt, dead cells and oil.
Powerful Peppermint Oil decreases inflammation and stimulates facial circulation, while Tea Tree and Clove Oil penetrate and help to kill bacteria deep down.
Active astringent and antiseptic properties. Helps improve the look of enlarged pores and leaves skin with a healthy, youthful glow.
 USAGE/TIPS
FOR COMBINATION / T-ZONE SKIN: Use 1 time/wk on full face and 2-4 times/wk on T-zone. Leave on 20-40 min. As skin gets healthier, do full face 1 time/wk and T-zone 1-2 times/wk.
FOR OILY SKIN: Use 3-5 times/wk. Leave on for 20-40 min. As skin gets healthier and oil lessens, can cut back to 2-3 times/wk. Very oily skin, sleep in mask 2 times/wk for first week or two.
FOR NORMAL SKIN: Use 1 time/wk on full face for 5-10 min.
FOR BREAKOUTS: Spot mask on breakouts and sleep in it. Up to every other night.
INGREDIENTS
CLARIFIQUE Purifying Clay Mask
Steam Distilled Water, Aloe Vera, Kaolin Clay, Bentonite Clay, Witch Hazel, Glycerine*, Tea Tree Oil, Grapefruit Oil, Clove Oil, Lemongrass Oil, Peppermint Oil, Cinnamon Oil, Clary Sage Oil, Caprylhydroxamic Acid, Glyceryl Caprylate, GIycerine*.
* vegetable source.


REVIEWS

Worldwide Spa Review says: "CLARIFIQUE Mask is a revelation; after only one use my skin texture was noticeably changed; smoother, tighter… when you want to look your porcelain best."
Nursing Spectrum says, "Nurses CLARIFIQUE Mask product reigns over pores."
"I can't say enough about the difference L'ATHENE Purifying Clay Mask has made. I was out to dinner with a couple of girlfriends that I haven't seen since I started using L'ATHENE. They couldn't stop complimenting me on my complexion. My friend said that in the two years that she has known me she has never seen me without a little shine on my face. Her first question was "what are you doing different? You look fantastic." Maureen B. RN San Francisco, CA
"Mineral clays don't have to be drying; they can actually gently exfoliate, brighten and renew. Your CLARIFIQUE Mask is one of my favorite multi-taskers. It takes out the toxins from the pores and leaves the good stuff. Now my skin looks fresh all day and when I wash my face at night; it looks like I have had a facial. Best mask ever." Deb O. Mt. Pleasant, SC
PORE SIZE FACTS
The same pollutants that deplete our environment also affect our skin.
Every day our skin is exposed to environmental toxins. Pores get clogged with harmful by-products of modern life which increase fine lines and wrinkles, diminishes hydration and diminishes elasticity.
---
Regular cleansing isn't enough to eliminate deep down impurities that accumulate over time.
The look of the pores can be enlarged with deep impurities. A mask is critical to remove dead cells and dirt that can accumulate in pores, therefore making them look smaller.
---
Toners for anti-aging skin can be a leading cause of dryness and dehydration of skin.
Most toners contain alcohols and harsh drying agents. These can strip and disrupt the skin's acid mantle which can cause dryness and itching. Blackheads and whiteheads cannot be broken down by toners.
---
Natural mineral clays neutralize these toxins to help repair damage, and promote newer, firmer looking skin.
Clay has been used for medicinal and cosmetic purposes for skin throughout history from the Egyptians to Native Indians. Clay is the single most used health remedy in France today.
Kaolin and Bentonite clays have high concentrations of minerals. This makes them highly absorbent resulting in deep removal of impurities and dead accumulated cells plus deep removal of excess oils (lipids). These clays intensely purify, stimulate and invigorate skin. They infuse your skin with essential minerals to keep it hydrated and radiant.