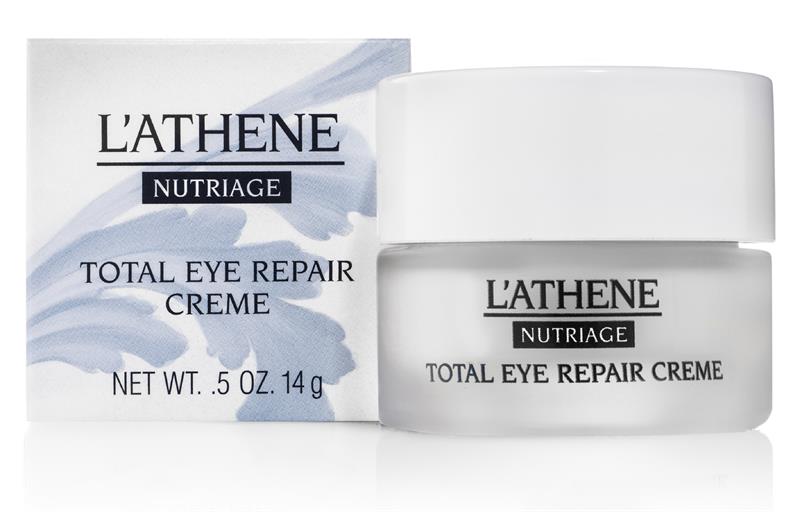 NUTRIAGE Total Eye Repair Creme
NUTRIAGE Total Eye Repair Creme
4-IN-1 ANTIOXIDANT EYE REPAIR
Targets 4 problems: lines, dark circles, puffiness, hydration
Visibly smoothes fine lines and wrinkles
Reduces the look of dark circles and puffiness
Immediate hydration
Helps firm skin
Helps repair the appearance of sun damage
For all skin types
~5-6 month supply. 0.5 oz.
DETAILS
REVEAL BRIGHT BEAUTIFUL EYES ALL DAY LONG! Pure, medical-based antioxidants attack all anti-aging concerns of the eyes—dark circles, puffiness, lines, lack of firmness, and lack of hydration.
Fortified with fatty acids from Jojoba Oil and Shea Butter to nurture and restore moisture to the body's most fragile skin.
Powerful antioxidants of Vitamins A, Ester C, Natural E and Selenium help to restore firmness and rebuild collagen. Rejuvenating Geranium Oil and Chamomile help to minimize the look of puffiness and dark circles for that refreshed, bright-eyed look of youth.
USAGE/TIPS

Apply a small amount twice daily below and above the eye lid.
TIP: Apply before concealer or sunscreen.
INGREDIENTS
NUTRIAGE Total Eye Repair Creme
Steam Distilled Water, Ginseng (Panax Quinquefolius), Goldenseal (Hydrastis Canadensis), Chamomile (Matricaria Recutita), Sunflower Oil, Grapeseed Oil, Cetearyl Glucoside*, Glyceryl Stearate*, Jojoba Oil, Glycerine*, Caprylic Acid, Glycine, Almond Oil, Tocopherol (Natural Vitamin E), Borage Oil, Shea Butter, Geranium Oil, Retinyl Palmitate (Vitamin A), Amino Acids, Xanthan Gum, Ascorbyl Palmitate (Vitamin C), Selenium, Bilberry (Vaccinium Myrtillus), Caprylhydroxamic Acid, Glyceryl Caprylate, GIycerine*.
* vegetable source.
REVIEWS
NUTRIAGE voted 'TOP PICK' by SELF Magazine
World Wide Spa Review says: "NUTRIAGE Eye Repair Crème certainly beats surgery—far less puffiness and far fewer circles."
"With your eye repair cream, I have noticed a marked improvement, not only a decrease in the visible lines, but a general firming and softening of the skin as well." Elaine W. Arlington, TX
"The NUTRIAGE Eye Cream is great. My eyes are no longer dry by the end of the day. This eye cream has the best staying power of any I have ever used." Regina H. Durham, NC
SKIN AROUND EYES FACTS
Eye skin is very fragile... it's four times thinner that other facial skin.
Has virtually no oil glands—needs extra protection from dryness.
Sags and wrinkles with damage from sun exposure, chemicals, wind and cold.
---
Eye skin is the first to show signs of aging, sun damage, stress and fatigue.
Has less collagen and elastin fibers than facial skin.
Collagen, the protein responsible for the skin's elasticity, begins to deteriorate with age.
Has a more fragile vascular structure (capillary network) which is closer to skin's surface, showing dark circles.
---
Eye skin, with aging, loses its elasticity and becomes even thinner.
Has accumulated photoaging (sun) damage causing lines, uneven tone, sagging and dark patches.
Is more sensitive and more prone to puffiness.
---
Eye skin is very sensitive and vulnerable to dryness.
Most eye cremes are made with waxes and petroleum-derived oils – can actually cause more dryness.
Petroleum-based cremes – can cause blackheads and breakouts on the cheekbones and milia on the eye lids because they can't be absorbed and are pore-clogging.
Eye makeup removers are also dehydrating – can irritate this thin sensitive skin.
---
Together, Vitamin E & Vitamin C provide appreciable sun damage protection (photoprotection) and antioxidant protection... according to a Duke University study.1
"We suggest that these natural products can protect against photoaging and skin cancer,"2 the Duke study concluded.
"A 4-fold antioxidant protection factor can be obtained from the combination of topical vitamins E and C,"3 the study also said.
1. UV photoprotection by combination topical antioxidants Vitamin C and E. Department of Medicine, Duke University Medical Center, Durham, NC 27710, USA, lin JY, Selim MA, Shea CR, Grochnik JM, Omar MN, Monterio-Riviere NA, Pinnell SR.
2. Ibid.
3. Ibid.