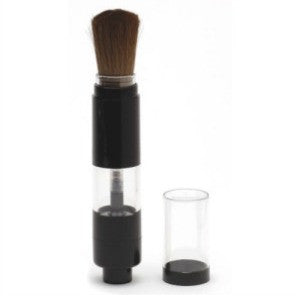 Simply Karen Mineral Foundation in a Pump Brush
Our Natural Mineral Crushed Foundation SPF 15 is now available in our convenient Pump Brush - Now you can apply your favorite loose mineral foundation on the go with ease. It's perfect for traveling and combines the best of both - a loose mineral foundation (which offers a lighter application to a pressed makeup) and an easy to use brush and makeup in one. You will love it and we are so happy to bring it to you.


Ideal for use as an All-Over Body Sunscreen also! If you hate the feel of a greasy sunscreen try this anywhere on the body with an SPF of 15!

Testimonial:
I love the Simply Karen Pump Brush with foundation/sunscreen!! I finally found a mineral sunscreen that does not irritate my skin and works for me. I have been using this for 4-months now and just love that it is not greasy, blends in with my skin, and gives me the sun protection that I need. I can't be without it! I would never want to go back to those greasy, liquid sunscreens again, and with this Pump Brush, I don't have to.
Sincerely,
A. Edelman
Winter Haven, Florida
Now more about the make up...
Our all natural mineral foundation provides excellent coverage while looking natural. It will make your skin look fresh and clean, with a natural glow. Mineral makeup brushes on like a silky powder, that stays put all day. You will love how easy it is to apply compared to a liquid foundation that takes time to blend!

Also, Simply Karen Mineral Makeup with its titanium dioxide and zinc oxides, is an excellent anti-inflammatory making it great for skin troubled with acne, or post microdermabrasion or light chemical peels. It covers the redness and also helps to calm the irritation.

How to use: Pump the brush several times to bring the makeup into the brush, then tap on your forehead, cheeks and chin. Now blend using a circular buffer motion over the entire face and neck, until completely blended. For touch ups just tap on a specific area and blend.
Try it today, we have several natural foundation shades to choose from.